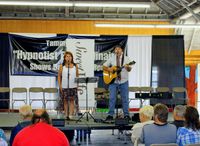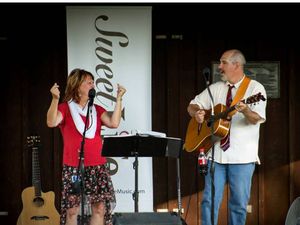 FESTIVALS, FAIRS & CAMPGROUNDS
Matt & Carol have a lot of fun on stage -
engaging the audience with witty banter, funny stories, and well-loved songs from all over the 20th Century -
plus a few uplifting songs of their own.
 
Wide Variety Variety, Tailored To Fit Your Event:
For over 25 years, these married best-friends have entertained audiences from New Jersey to Nashville with their fun, family-friendly music about life & love.  They're perfect for all ages & musical tastes, blending sweet harmonies with soft rock, modern country, & smooth jazz guitar into a unique acoustic pop style - with uplifting lyrics that celebrate gaining & keeping healthy, happy relationships. 

They've Shared Stages With:
Americana musical icons The Black Lilies, country music legends Stu Huggens and Buck McCoy, cigar box guitar blues legends Shane Speal & Glenn Kaiser, stage hypnotist Tammy Barton, and radio personality/comedian Earl David Reed.
 
They're Highly Sought-After:
With 300+ performances each year, they're quite versatile, performing for all types of events, including:
     *The York Fair, YorkFest Fine Arts Festival (PA),
     *Ocean Grove Concert Series (NJ),
     *Dickey's BBQ Pit (PA),
     *Adventure Bound Campsites (MD & PA),
     *ORVIS Stores (VA),
     *National Street Rod Association (PA),
     *The Good Sam Club (PA),
     *American Cancer Society (PA),
     *Bridge Of Hope Ministries (PA),
     *more.

National Anthem & Patriotic Concerts:
They're also available to sing "The Star-Spangled Banner" at sporting events, car shows, and more.

They have a deep reverence for our veterans and their families, and love to include songs to honor them and their service and sacrifice for our country.  If you'd like an entire patriotic program, please see our SALUTE TO AMERICA'S HEROES program.
  Five Minutes Of Musical Snippets
& Special Song Introductions
Only Heard At Concerts

Featuring: 
"Where Has The Love Gone?,"  "I Just Melt,"
"Tilt-A-Whirl,"  "Be Still And Know,"  "I Don't Have To,"
& their patriotic tribute "When She's Flyin' High"
 
 
Our Live On-Air Interview & Performance

Featuring:
"I Just Melt"  &  "One Sunday Morning"
SAMPLE SONG LIST:
Ain't No Sunshine - BILL WITHERS
All I Have To Do Is Dream - EVERLY BROTHERS
Always On My Mind - WILLIE NELSON
Annie's Song - JOHN DENVER
As Time Goes By - CASABLANCA
Bad Moon Rising - TINA TURNER
Best Of My Love - THE EAGLES
Bless The Broken Road - RASCAL FLATTS
Blue Moon - RODGERS & HART
Blue Suede Shoes - ELVIS PRESLEY
Brown-Eyed Girl - VAN MORRISON
Could I Have This Dance - ANN MURRAY
Country Roads - JOHN DENVER
Crazy - PATSY CLINE
Crazy Little Thing Called Love - QUEEN
Dance With Me - ORLEANS
Danny's Song - ANNE MURRAY
Fly Me To The Moon - FRANK SINATRA 
Forever And Ever Amen - RANDY TRAVIS
God Bless America - KATE SMITH
God Bless The USA - LEE GREENWOOD
Happy Trails - ROY ROGERS
Hey Good-Lookin' - HANK WILLIAMS SR
Have To Say I Love You In A Song - JIM CROCE
How Sweet It Is - JAMES TAYLOR
Isn't She Lovely? - STEVIE WONDER
It Had To Be You - HARRY CONNICK, JR.
Lean On Me - BILL WITHERS
Moondance - VAN MORISSON
Obladi Oblada - THE BEATLES
On The Road Again - WILLIE NELSON
Open Arms - JOURNEY
Proud Mary – TINA TURNER/CCR
Ring Of Fire - JOHNNY CASH
Somewhere Over The Rainbow - UKE VERSION
Stand By Me - BEN E. KING
Still The One - SHANIA TWAIN
Unforgettable - NAT KING COLE
When She Cries - RESTLESS HEART
Where You Lead - CAROLE KING
Wish You Were Here - PINK FLOYD
Wonderful Tonight - ERIC CLAPTON
Wonderful World - LOUIE ARMSTRONG
Won't Back Down - TOM PETTY
MANY MORE. 
WHAT THEY SAID:

"Our car club thoroughly enjoyed your performance at the Ice Cream Social held during our recent AACA Eastern Spring National Meet. The selection of songs, quality of the singing, and Matt's guitar playing were all outstanding.  This was a large group of about 200 people, and all came away more than pleased with the entertainment. Thank you, Sweetlife Music, and great job!"
-- Al & Nancy Z., Chesapeake Region Antique Automobile Club of America
"SweetLife has performed on the Heritage Hall stage at the York Fair for several years running.  They entertain crowds of all ages & musical tastes, drawing audiences in with their own fun, unique blend of music, stories, & banter.  I highly recommend them, & am looking forward to hearing them at the York Fair for many years to come." 
-- Mike Leash, York Fair Entertainment Coordinator

"Thank you again for your awesome music & ministry you provided at the Good Sam Rally this past weekend.  We thoroughly enjoyed both Saturday night (variety concert) & Sunday morning (service).  Love the old hymns."
-- Janetta Messmer, PA Good Sam Camp Club Member
"It was exactly what we wanted."
-- Ferryboat Campground, Dublin, PA

"Thanks again for providing the lovely music for Arbor Gate residents on Sunday.  It was perfect!"
-- C. Ulsh, Arbor Gate 55+ Community, Myerstown, PA

"Thank you so much for a lovely afternoon. Your music was the perfect compliment for our Community Wide Picnic! The music selection was spot-on & it kept everyone engaged. We are definitely looking forward to future performances. Thanks again!!"
-- V. McNeill, Highlands @ Wyomissing, Wyomissing, PA

"Thank you so much for being here.  It was a joy."
-- K. Martin, Camp Hebron, Halifax, PA

"Thanks so much for providing entertainment at the carnival last Friday!!  We received lots of great comments about the carnival, and now we are looking at doing another outside event.  Would you be available on...?"
-- Emily H., Barley Autumn House, York, PA

Contact SweetLife Below To Schedule Your Own Fair, Festival, or Carnival event.

**NOTE:  SWEETLIFE PERFORMS AT NON-SMOKING OR OUTDOOR EVENTS ONLY.**